NASFAT YOUTH EMPOWERMENT SCHEME 2022 BY WILD FUSION DIGITAL CENTER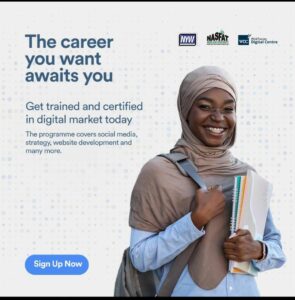 6-week Digital Marketing & Advertising Skill Acquisition Training reprogram for the youth of NASFAT
70% Practical Training with *4 International recognized Certificates
Are you interested in any of the following High-Income Skills??
Website Development
 Content Creation & Writing
Paid Advertising
 Video Creation
Google analytics
Digital Marketing
Then this training is for you!!!
Course Details
 introduction of Digital Marketing
 Search Marketing – Pay Per Click
Google my Business
 Digital Display Advertising
Content marketing
Email Marketing
Search Engine Optimization (SEO)
Mobile Marketing
Digital $ Social Strategy
Google Analytics
Website Development (WordPress)
Business Ethics and Excellence
Remote Works
Registration Starts- Today:
Early Bird #20,000.00 (May 1st to June 10, 2022)
Late Registration* #30,000.00(June 11th to 16th 2022)
Pay into:
Acct No: 2068831774
Acct Name: NASFAT
Bank: UBA
Duration: – 6 weeks
Monday to Friday
Time:10am to 4pm
Certifications
#Google Ads #Google Analytics* #Flight School
#Facebook Blueprint #Certified Buyer*
#SEMrush Fundamental certificates.
Use the link below to register now!!!
Link: https://bit.ly/Nasfatdigitalmarketing
ONLY 50 SLOTS ARE AVAILABLE!!!