Tripartite Meeting of the NASFAT Children's Affairs Committee took place at NASFAT Headquarters, Alausa, on Saturday the 4th day of June  2022.
The  Nasfat National Children's Affairs Committee (NCAS), Zonal Children's Affairs Committee (ZCAS) and Branch Children's Affairs Committee (BCAS) were present at the meeting where various simple learning and grooming educating strategies that will assist the children cognitive and otherwise skills  were deliberated on in line with the NASFAT National Executive Council's policy tagged HELD. That is, Health Education Livelihood and Dawah.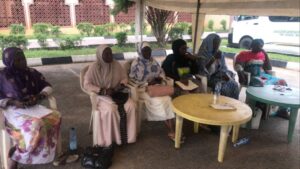 Also Shurah Screening Exercise ongoing at Ibeju-Lekki Branch and Agbowa Group as conducted by the Committees constituted for this purpose continued.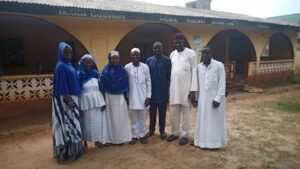 In continuation of the commemoration of the International Children's Day celebration, prayers were organised at Imota Branch along side merriment and educative games. ZEC members present there were Zonal Children's Affairs Secretary, Alhaja Rashidat Ajileye and her education counterpart Alhaja Modinat Baderinwa.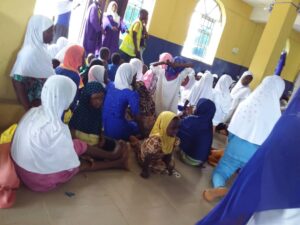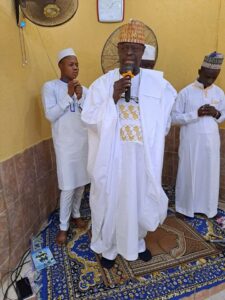 In the same vein the Acting Zonal Missioner, Barr. Uthman Jaji Mohammad paid a working visit to Owode-Ajegunle and Ikorodu Branches on Sunday 5th June, 2022 and joined the congregations in the Asalatu activities  with words of inspiration and encouragement.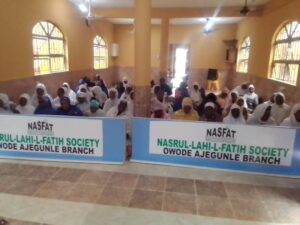 The train of the activities moved further and farther into Ikorodu environ, where the Zonal Education Committee visited the Children Department during Asalatu session at NASFAT Akasolori Ikorodu Branch On Sunday 5th June 2022.
In the ZES, Alhaja Modinat Baderinwa's entourage was the ZCAS Alhaja Ajileye Rashidat Olaide. The BES was on ground to receive the team.
In her message, Alhaja Baderinwa informed the children that NASFAT has scholarship opportunities for the young adults, who have reached the stage of enrolling into higher Institution of learning especially if Fountain University, FOU, is chosen as their institution of choice to learn in, and which they will do through Joint Admission and Matriculation Board, JAMB.
She added that, since their parents and they themselves are members of NASFAT, they can enjoy this scholarship opportunities, that's one of the benefits among others laudable programmes to help humanity, that NASFAT has put in place for its members. So, they should pass the information to their parent and guardians..