The Speaker of House of Representatives, RT. Honourable Femi Hakeem Gbajabiamila; former Deputy Governor, Ogun State, Senator Adegbenga Sefiu Kaka; a renowned Chartered Insurance practitioner, Prof. Ahmed Olaniyi Salawudeen; and retired Head Teacher, Alhaja Abibat Abeni Olufowobi were among the thirty (30) distinguished Nigerians honoured by Ansar-Ud-Deen Society of Nigeria at its Triennial National Conference, for their contributions towards the development of Islam and humanity through the organisation.

Prominent Muslim personalities honoured at the well-attended event held on Sunday, June 26 at Yard 158, Event Centre, Oregun, Ikeja, Lagos included the ex-Chairman, Oshodi-Isolo Local Government Caretaker Committee, Alhaji (Dr.) AbdulRaheem Disu Sule; Chief Executive Officer, Callari Homes Limited, Alhaji Abdul Hakeem Afolabi; founder of J.A Popson Trading Company, Alhaji Jimoh Akanni Popoola and Director and owner of Ar-Rasald Nigeria Enterprises, Alhaji Abd'Rahman Salaudeen.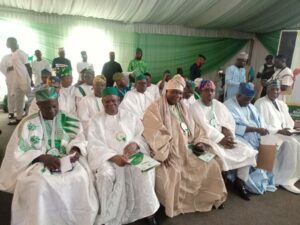 Others are Dr. Wasilat Shittu-Titilola, Alhaji Chief Abdul Razack Ifamiditimi, Hon. Alhaja Aisha Badmus, Alhaji Munirudeen Oyebamiji, Alhaja Rafat Ibraheem Allah-Dee, Mr. Is-haq Ayodele Sanni, Alhaja Sidikat Kikelomo Ibironke, Alhaji Chief Dahood Adeyemo, JP, Alhaja Kuburat Adunni Subair, Alhaji Waheed Ajao, Alhaji Imam Lateef Moyosore, Alhaja Seliat Olajumoke Idowu, Alhaji Isiaka Tunji Agbomojo, Alhaji Miftau Adisa Oriola, Alhaja Rashidat Amope Yusuf, Alhaji Musodiq Quadri, Alhaji Junadu Olalekan Saka, Alhaji (Aare) Hakeem Adisa Toluwaloju, Alhaji Abdulganiyu Adio Onikeku.
Two deceased members, Alhaja Busirat Kehinde Soile and Alhaji Olanrewaju Uthman received post humous awards for their outstanding dedication and progressive activities in ADS Ebute-Metta, Lagos and Otun-Ekiti, Ekiti State respectively.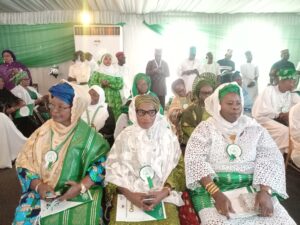 Muslim News gathered that most of the awardees drawn from all the State chapters of the Society are accomplished civil servants; bankers, politicians, administrators, philanthropists, traders and businessmen and women.
Renowned Islamic scholar, Sheikh Muyideen Ajani Bello in his lecture, congratulated the awardees, praying that Almighty Allah make the awards beneficial to them in this life and the hereafter.
Sheikh Ajani-Bello, who is equally the Chief Imam/Missioner, Ansar-ud-deen Society of Nigeria, Northern States Council. said the recognition bestowed on them is a way of appreciating their selfless services towards the development of the Society over the years.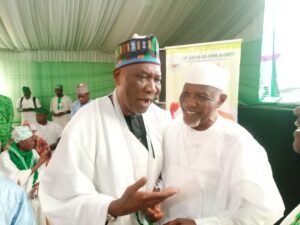 "Anytime we call you to support the work of Allah, you're always at the forefront in the progress of Ansar-Ud-Deen. Today's event is a way of acknowledging those good deeds of yours. Our president, who is present here today, and the entire members of Ansar-Ud-Deen are saying 'Thank You'."
Advising the awardees, Sheikh Ajani Bello said, "I have just one advice for you, you reap what you sow. If you do good in your life with the resources Allah gives you, you shall be rewarded by Allah in this life and the hereafter. But if you do evil, or follow your self desire, you shall sow it. So, let's do good all the time."