Hajj Pilgrimage is one of the pillars of Islam for every Muslim who has the capacity to perform at least once in a lifetime.
Prior to the year 2019, several continents of the world were always performing this religious rite with billions number of pilgrims.
As Allah SWT would have it, the advent of the pandemic, CoronaVirus in the year 2019 tagged COVID-19, deprived many people/pilgrims the opportunity to embark on this religious rite, hence, the Hajj performance was put on halt since 2019 till this year, 2022, which happens to be the first hajj pilgrimage performance after COVID-19, although some other religious activities were observed during these years of break in transmission of hajj pilgrimage.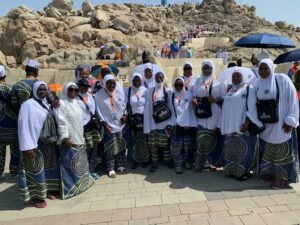 This really affects the population of pilgrims at this year's hajj. Such that even the private Umrah and hajj operators in Nigeria also felt this decrease in the number of pilgrims. Among the operators sighted at Makkah and Medina cities were TAFSAN Tours and Travels, State Muslim Pilgrims Welfare Boards from Ogun, Oyo all from Nigeria, AL-FIRDAOS Umrah and Hajj Services Limited to mention but a few.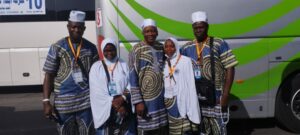 Lasilkiin.com gathered that, in fulfilling the activities lined up for the hajj pilgrimage performance, Al-Firdaos Umrah and Hajj Services Pilgrims visited historical places in Makkah and Medina. Historical sites as Jabbal Thawr.
At Jabal thawr فى جبل الثور
Jabal al-Thawr (Arabic: جبل ثور) is the mountain containing the cave in which the Prophet (ﷺ) and Abu Bakr (رضي الله عنه) sought refuge for three days and nights from the Quraysh. This occurred when they secretly left Makkah to emigrate to Madinah.
Jabal Rahman
على جبل الرحمة (عرفة)
On JABAL RAHMAH (ARAFAH)
Located in Arafah, Jabal Rahmah holds a significant meaning as this was the location reportedly where Prophet Adam A.S. and Hawa A.S. were reunited and also where Prophet Muhammad S.A.W. delivered his final sermon of his final Hajj.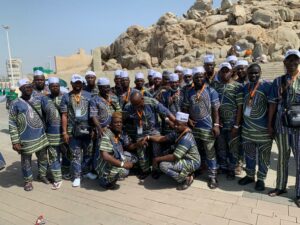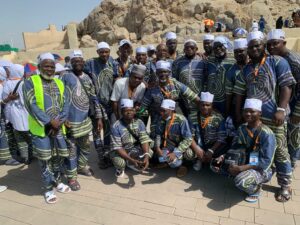 Jabal Nur
فى جبل النور
At JABAL NUR
Jabal an-Nour (Arabic: جَبَل ٱلنُّوْر Jabal an-Nūr, lit. 'Mountain of the Light' or 'Hill of the Illumination') is a mountain near Mecca in the Hejaz region of Saudi Arabia.
The mountain houses the grotto or cave of Hira' (Arabic: غَار حِرَاء, : Ghar-i-Hira, lit. 'Cave of Hira'), which holds tremendous significance for Muslims throughout the world, as the Islamic prophet Muhammad is said to have spent time in this cave meditating, and it is widely believed that it was here that he received his first revelation, which consisted of the first five ayats of Surah Al-Alaq from the angel Jibra'il (as is pronounced in certain Quran recitation schools and some Arab tribes; also known as Gabriel).
It is one of the most popular tourist attractions in Makkah. The mountain itself is barely 640 m (2,100 ft) tall; nonetheless one to two hours are needed to make the strenuous hike to the cave. There are 1,750 steps to the top. Others are Jamurah, Muzdalifah, Muna etc.
Prior to this, the pilgrims had immediately after their arrival in Jeddah, Makkah after checking in their hotel, performed Hajj Al-Tamatt'u. The pilgrims after wearing their Ihram before reaching Miqat while on board, performed Umrah first upon entering Makkah to signify and register their presence.
As at the time of this report, more pilgrims among the expected Pilgrims are still arriving as at today, Saturday and their arrival shall continue till Monday In Sha'a Allah.