The National leadership of The Companion, an Association of Muslim men in Business and the Professions, has partnered with its Lagos District to disburse money and materials worth N19 million Zakat proceeds to faith-based Non-governmental organisations and indigent Muslims.
The event which held on Saturday, July 2, at the Shamsi Adisa Thomas Mosque Hall, Old Secretariat Road GRA Ikeja, Lagos, was the grand finale of the 2022 Zakat distribution of The Companion.
Muslim News findings revealed that the Organisation had held series of such empowerment programme in Kwara, Oyo, Cross Rivers, Osun, and the Federal Capital Territory, FCT, Abuja, where over N9 million were disbursed to needy Muslims and non-governmental organisations.
Some of the beneficiaries who went home with cheque money ranging from 300,000 to 500,000 include individuals who need support in areas of education, health, welfare and business.
Notable charity organisations that benefitted from the distribution were FAJIM Medicare Foundation, Sakinah Medical Outreach, Sisters in the Deen Foundation (Sakeenah Orphanage Home), Association of Zakat & Waqf Operators in Nigeria (AZAWON), UNHCR for IDPs (United Nations High Commission for Refugees), and Coalition of Island Muslims.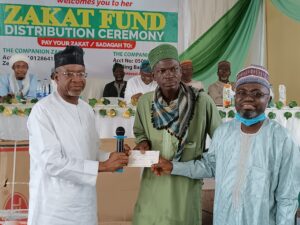 The Companion which has branches across Nigeria is also a member of the Association of Zakat and Waqf Operators of Nigeria (AZAWON) with headquarters in Sokoto.
Zakat, an important pillar of Islam – Amir
In his welcome address, the National Amir of The Companion, Engr. Kamil Olalekan urged for increased campaign and advocacy by members, noting Muslims should understand that Zakat is also an important pillar of Islam.
He commended members of The Companion Zakat Committee led by Imam Nojeem Jimoh for their efforts, saying they have made laudable progress.
According to him, "I am also delighted to be here to encourage the committee and implore our members in general to be part of this campaign to create more awareness among wealthy and qualified Muslims and business organisations on the need to fulfil their Zakat and Sadaqah obligations.
"This campaign is important in order to assist more Muslims to understand that Zakat is also central to Islam like other pillars of Islam such as Solah, Ramadan and Hajj. Furthermore, to remind our Muslim brothers and sisters that Zakat attracts benefit for those who pay it just as it is a source of punishment for those who are qualified to pay but fail to fulfil this obligation."
The National Amir also appreciated the donors for their trust, while explaining that their contributions have been disbursed in a transparent manner. He similarly urged the beneficiaries to make judicious use of the support to earn the pleasure of Allah.
"This address will not be complete without saying a big thank you to our donors and contributors for their trust in us to discharge part of their Zakat obligation on their behalf. (Jazakallahu khaeran). We pray Allah to accept your Zakat and Sadaqah and reward you abundantly, both here and in the hereafter. I want to re-assure you that your trust is not misplaced. The administration and disbursement is done transparently and in line with shari'ah dictates," he said.
He called on the beneficiaries to judiciously utilize the funds and materials to earn the pleasure of Allah, adding, "Those who are receiving business support are particularly enjoined to invest the money wisely as I sincerely pray Allah to raise you in financial status to be in a position to pay Zakat/Sadaqah in near future. Aamin."
Zakat will provide jobs, reduce crimes – Sheikh Ahmad
While speaking on the topic, Zakat: Rights and Obligations, Sheikh Saheed Ahmad said giving Zakat to empower and support small business ventures will reduce social vices, adding that young people engage in crimes since they are idle, and an idle hand is a devil's workshop.
According to him, "Majority of the time you find youths engaging in acts of delinquency, joblessness, non-engagement in constructive endeavours have been found to be the major factors.
"This parlance is very common: an idle hand is the devil's workshop. Giving Zakat to empower, establish and support small business ventures will go a long way to reduce vices. If our youths are meaningfully engaged, they would turn important contributors to national development.
"But when there is nothing for them to do, no resources to earn a better living for themselves, naturally, they will express this anger through whatever means they deem necessary. So, Zakat will go along way if fully deployed, to reduce youth restiveness," he added.
Beneficiaries speak, thank The Companion
The beneficiaries took turns to laud the intervention of The Companion, noting it would go a long way to assist them.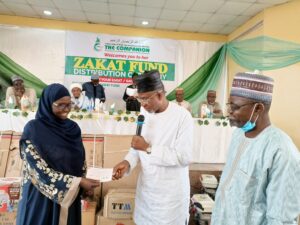 Among those who spoke to Muslim News was a PhD student at Lagos State University (LASU), Mukaila Akanbi, who received N500,000 for educational support.
He said, "I had lost the opportunity of graduating for my PhD programme due to financial constraints. The main reason I sought funding is to complement my thesis work. Alhamdulilah, I am done with the thesis. I could have been among the students who graduated in April from Lagos State University (LASU) but due to financial constraints I could not hold the thesis defense.
"This money will give me a way out to pay the debt owed to the school. And when that is done, I would be able to hold my defense and wrap up the programme. I pray that Almighty Allah make it easy for me and accept it as an act of ibaadah."
Speaking further, Mr Akanbi said, "I also want to appreciate The Companion for the Zakat fund distribution. The Prophet (SAW) said whoever has been rendered help should reciprocate it, but if he is unable to do so, he should pray for his benefactor. So, I am using this medium to pray for the entire Companion society, the chairman, management and everybody who has contributed to the success of the initiative. May Allah continue to reward them abundantly. I say JazakumuLlahu Khayran."
For her part, Founder, FAJIM Medicare Foundation, Prof. Fatimah Abdulkareem, said the Zakat fund received from The Companion will aid their mission of touching the lives of the less privileged.
Prof. AbdulKareem, former National Amirah of The Criterion, noted that with the fund, her foundation is sure to provide scholarship for two indigent students this year.
"At Fajim Medicare Foundation, we concern ourselves with offering support to the vulnerable in the community. We do free medical outreach. We give scholarship to undergraduates studying medicine, radiography, pharmacy and other medical courses. And since we started, we've given over 42 scholarships. We have done free medical outreach. We have touched the lives of over 3,000 persons; treated them and screened them free.
"This intervention by The Companion Zakat Committee, Lagos District will go a long way. For example, in December 2022, we gave out scholarship to undergraduates. We gave N100,000 per student. For this we got, at least, we are sure that we are going to give this scholarship this year to two students. The fund is going to go a long way in assisting our organisation. I thank The Companion and also want to encourage others that are zakatable to pay. Little drops of water make a mighty ocean," she stated.
The idea behind Zakat is wealth distribution – Dr. Adebola
The distribution ceremony was witnessed by important personalities, including Group Managing Director, Courtville Business Solutions PLC, Dr. Adebola Ismail Akindele.
On the sidelines of the event, Dr. Akindele told Muslim News that he had been very close to the executives of The Companion, noting they have always been making important efforts in empowering the Muslim ummah.
According to him, the idea behind Zakat is the distribution of wealth, an it is an injunction from Almighty Allah, equivalent to the five daily prayers.
He expressed hope that with this kind of effort, poverty would be reduced in the country.