The Governing Council of the University of Abuja (UNIABUJA) has promoted no less than 23 academic staff to the rank of Professors and Associate Professors.
The promotion, which was approved on Wednesday, June 29, 2022 by the Governing Council's Chairman, Prof. Ahmed Modibbo Mohammed, took effect as far back as January 2022.
Although the University is yet to release the names and profiles of the shortlisted academic staff, Muslim News, however, learnt that a hijab rights lawyer and law scholar, Dr. Rasheed Musa Yusuf was elevated to the rank of a full professor of law.
We can also confirm that Dr. Mohammed Enesi from the department of Jurisprudence and International Law was also promoted to the Professorial cadre.
The story will be updated to include other Muslim lecturers who made the list as it unfolds.
The newly promoted Professor of Law could not hide his joy while speaking with Muslim News on Saturday.
He said, I feel elated and thankful to Almighty Allah." Watch out for his full interview on this platform.
Dr. Yusuf is one of the hijab advocates in Nigeria. He was among the team of Muslim lawyers that won the fight for Muslim females to use the hijab at the Supreme Court of Nigeria.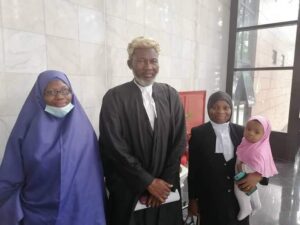 Back home, he was the Counsel on the case of Bashira Saliu and College of Education, Ilorin in 2006 which was won at the Kwara state High court presided over by Lord Justice Kawu, who is now the Chief Judge of Kwara State.
Prof. Yusuf made use of the precedence of another case earlier on between a Muslim sister and the Federal Polytechnic Ado Ekiti which was won by Barr. Adebayo Shittu, the immediate former Minister of Communications.
Who is Dr. Rasheed Musa Yusuf
Born in June, 1962 in Offa, Kwara State, Professor Yusuf attended College of Education, Ilorin, Kwara State between 1988 and 1991 where he obtained Certificate of Education. He moved to Usman Dan Fodio University, Sokoto for his Bachelor of Law (LLB) (Hons) where he combined Shar'iah and Common Law, from 1991 – 1996.
He progressed to Obafemi Awolowo Ile-Ife, Osun State for his Masters of Law (LLM) between 2001 – 2002 and obtained his Doctor of Philosophy (PhD.) in 2015 from the University of Abuja.
The hijab rights lawyer joined the University in 2007 as Lecturer II, and worked very hard, with dedication and commitment, and rose to become the HOD, Private and Islamic Law Department.
Muslim News gathered that Dr. Yusuf had been in academics since 1996 when he started as a part-time lecturer in the General Studies Department, Kwara State College of Education, Ilorin. The don taught at various tertiary institutions, including the Nassarawa State University, Keffi where he serves as a visiting associate professor.
Dr. Yusuf is a Fellow of the Institute of Islamic Finance Professionals (IIFP) and registered member of the Teachers Registration Council of Nigeria (TRCN).
He is also a Notary Public of the Supreme Court of Federal Republic of Nigeria.
Dr. Yusuf has also served as external examiner to the Nigerian Law School, Supervisor of the Joint Admission and Matriculation Board (JAMB) and collation officer of the Independent National Electoral Commission (INEC).
He has several academic and scholarly publications in both local and international journals.