Participants at the 7th edition of the Bi-ennial National Women Conference of the Nasrullahi li'fathi Society (NASFAT) hosted by Ekiti state recently have urged parents and guardians to be strategic in the task of raising children from cradle to adulthood.
At the three day program held between Thursday June 30 and Sunday July 3, women from all states of the Federation had eventful and educative experiences as resource persons were on ground to sensitize them in the theme of the conference which was " The How's of Raising Resilient Muslim Children Against All Odds"
The conference was preceeded by a Press Conference held at the AB Foundation Event Center in the state capital which also hosted other programs.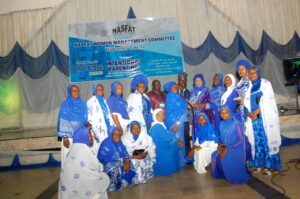 At the Press Conference, the National women Affairs Secretary, Alhaja Suweebah Kupolati highlighted the undying commitment of the religious organization towards impacting the country religiously, economically, socially and morally through its multi-faceted people oriented initiatives.
She said the conference which featured at least 700 women nationwide became imperative in view of the increasing spare of social vices among the young ones and adults.
She noted that over 70% out of the over one million members of NASFAT worldwide were women with proven records of financial support worth over 380 million Naira for the less privileged members and non-members, muslims and non-muslims across the country.
During the just concluded 7th Nasfat National Women Conference participatants took time to tour the Ikogosi Warm Spring where both cold and warm water are found.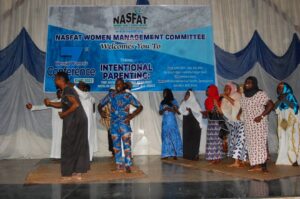 The experience according to the women who visited the resort center was awesome as it was reaffirmation of Allah's supremacy over all creatures.
Resource person at the main Conference, Dr Sulaimon Oginmuuiwa of M-Consulting, Lagos   urged parents and guardians to be attentive, committed, and pro-active in the task of raising their children and wards.
He said parenting required extra and untiring efforts especially owing to the exposure of the younger generation to technology and social media which he said play both positive and negatives roles in the state the world has found itself.
The scholar urged mothers to double their efforts due to their closeness to the children from birth till adulthood.
He also urged fathers to be supportive to the women stressing that single parenting was not an easy task.
There were also admonitions from participatants to governments at all levels in the country to rise and quell the rising insecurity in the country.
Awards were given to some women  in recognition of their impressive efforts at touching lives and propagating islam through the activities of NASFAT while participatants went home with certificate of participation.
The Zonal Women Affairs Secretary, Ekiti zone and Chairperson of the Host Organizing Committee, Alhaja Monsurat Aladejana described the event as impactful and successful as funds were also raised for the proposed Nasfat Mother and Child Hospital worth over 4.6 billion naira.