HIJRA YEAR 1444AH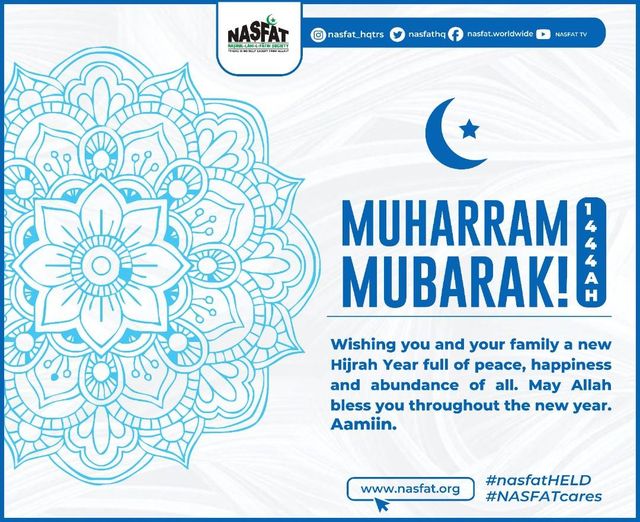 All praises are due to Allah for giving us the opportunity to witness the new Islamic calendar year, 1444.
We should therefore be reminded that, witnessing a new year affords us the opportunity of retracing our steps from bad habits and conducts, and consolidating on our commendable habits and activities.
Umm al-Fadl reported: The Prophet, peace and blessings be upon him, entered the home of Al-'Abbas while he was complaining and wishing for death. The Prophet said, "O 'Abbas, O uncle of the Messenger of Allah, do not wish for death. If you are a good-doer, your goodness will be added to your goodness and it will be good for you. If you are an evil-doer, you will be given time to make amends for your evil and it will be good for you."
The lesson in this Hadith is that we should see the new Hijrah year as Allah's favour upon us to strengthen our commitment to Him, correct our past mistakes and earn more rewards from Allah by His Grace.
PRAYER: Allahumma adkhilhu 'alayna bil amni wal iman, was salamati wal islam, wa jiwarim minash shaytan, wa ridwanim minar Rahman.
 Translation
O Allah, bring this [month or year] upon us with security, iman, safety, Islam, protection from shaytan, and your pleasure.
"Allahumma ahillahu 'alaina bil-amni wal-iman, was-salamati wal-Islam, Rabbi wa Rabbuk-Allah, Hilalu rushdin wa khairin
O Allah, let this moon appear on us with security and Iman; with safety and Islam. (O moon!) Your Rubb and mine is Allah. May this moon be bringing guidance and good.
Imam Abdul-Azeez Onike
Chief Missioner,
Nasrul-Lahi-l-Fatih Society (NASFAT)
Muharam 1st, 1444/July 30th, 2022