NAZAS AGM: N450 million zakat fund disbursed to over 50,000 Nigerian Families
August 10, 2022
At the end of every year, Nasfat Agency for Zakat and Sadaqah (NAZAS) just like every other corporate organization, always hold an event where the activities and financial dealings within a fiscal year are disclosed to the stakeholders.
The Annual General Meeting (AGM) for the year 2021(1443 AH) was held on Sunday 7th August, 2022. Muharram 9, 1444 AH, where it briefed the stakeholders, about all the account of its financial statements/activities in the last Islamic calendar year (Hijrah 1443 AH/2021).
The event held in Lagos, South West, Nigeria, also heralded the disbursement of Over N23 million disbursed to 126 beneficiaries through Empowerment, health, scholarship, monthly stipends for aged and debt relief.
Lasilkiin.com reports that in the year 1443/2021, NAZAS, an arm of the renowned Nasrul-lahi-l-Fatih Society (NASFAT), disbursed N100 million to indigent persons, including 15 entrepreneurs who were trained by HAVEK(NASFAT Leadership Academy), under an initiative launched by NAZAS, tagged Train-To-Find Scheme TTFS
Findings revealed that the agency has distributed N450 million Naira to no fewer than 50,000 less privileged families in seven years of its operations.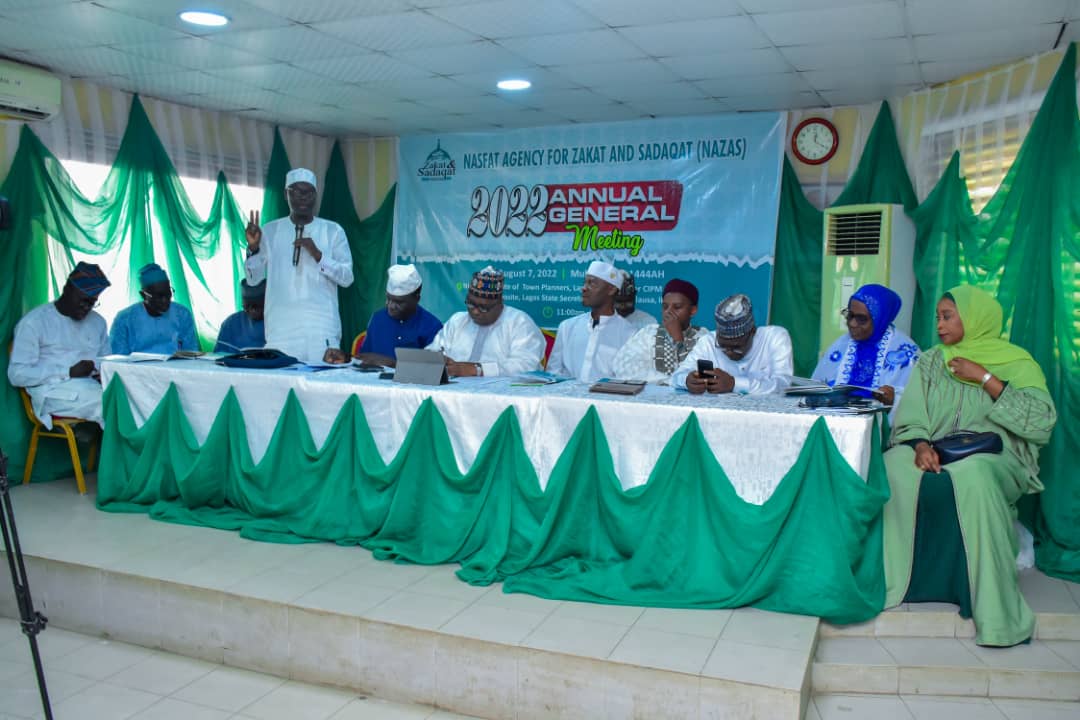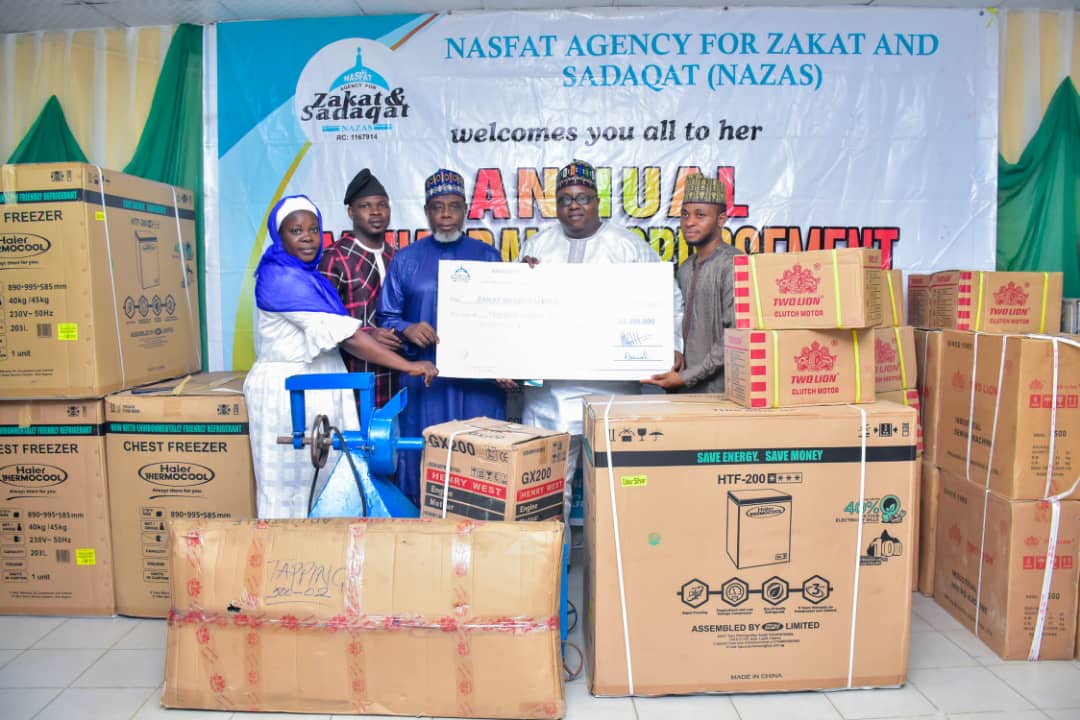 NAZAS Chairman, Alhaji Hafiz Bakare who welcomed the directors of the agency, leaders of NASFAT and other invited guests to the event of the Annual General Meeting congratulated the board members, management team as well as leadership of the Zonal Advisory Councils on the milestones achieved during the period under review, adding that, "For the first time in the history of the agency, we crossed the N100m mark in annual Zakat and Sadaqah collection."
Buttressing the Chairman's remark, the General Manager, NAZAS, Alhaji Muftau Adelotan told lasilkiin.com that, the agency was able to raise the sum of 100 million naira in the year ended 1443 AH.
"Today, we are disbursing N23,000,000 to signify the Muharram, 1444 AH disbursement to 126 beneficiaries. The impact of this on the lives of Nigerians, is that, it is going to alleviate poverty and equally increase employment rate and reduce hunger among us."
According to the GM, the beneficiaries include both members and non-members of NASFAT who are in need of support, as many of them smiled home with economic empowerment tools such as sewing machines, industrial sewing machine, grinding machine, oven, deep freezers, among others.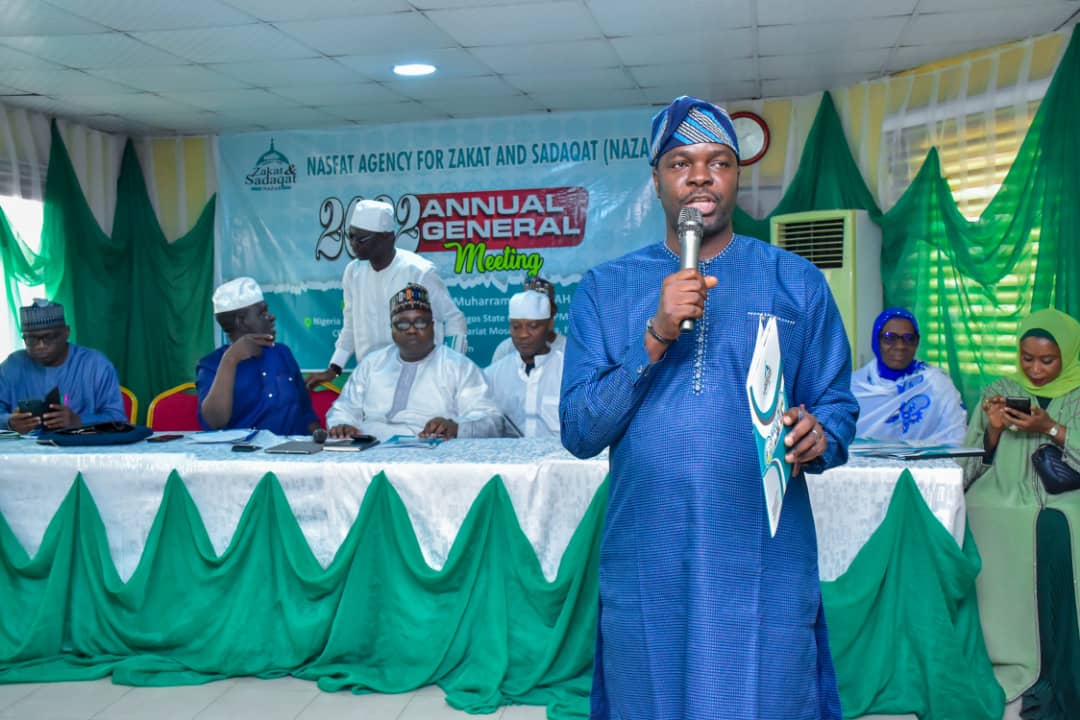 "If you look at the list of beneficiaries, a small percentage of them are members. Others are from outside," he said.
The NAZAS boss disclosed that various sums of the Zakat funds were also distributed to individuals who had passed through the entrepreneurship training of NAZAS.
"We equally created a new scheme called the Train-To-Fund Initiative. This scheme is targeted at entrepreneurs whom we don't just want to give money to alone. We had organised a training session for them through our sister agency, a leadership academy.
We have trained them and they are going to, in turn empower them with some funds. We are looking at this group coming back to become Zakat donors.
We are equally going to draft them into our Zakat Ambassadors Scheme as volunteers to assist in mobilising more funds for the Zakat scheme," Alhaji Akinlotan said.
On his part, President, NASFAT Society, Alhaji Niyi Yusuf, revealed that NAZAS has disbursed 450 million Naira Zakat fund in the last seven years for the benefits of about 50,000 indigents including about 2000 direct beneficiaries impacted through the annual Ramadan and Muharram disbursements, among others.
He described Zakat as an obligation in Islam, noting that Muslims who have attained a prescribed networth are to pay Zakat.
The President explained that NAZAS has presence in five out of the six geopolitical zones in Nigeria, saying the agency also seeks to expand its coverage, especially across where NASFAT has membership base.
"We started in Lagos, but now we have branches in Abuja, Kano, we are starting in Kaduna. We also have in Port Harcourt. The wide spread is what has led us to being able to gather over a hundred million Naira. We are no longer doing it in Lagos alone. We are now doing it in at least five of the six geopolitical zones.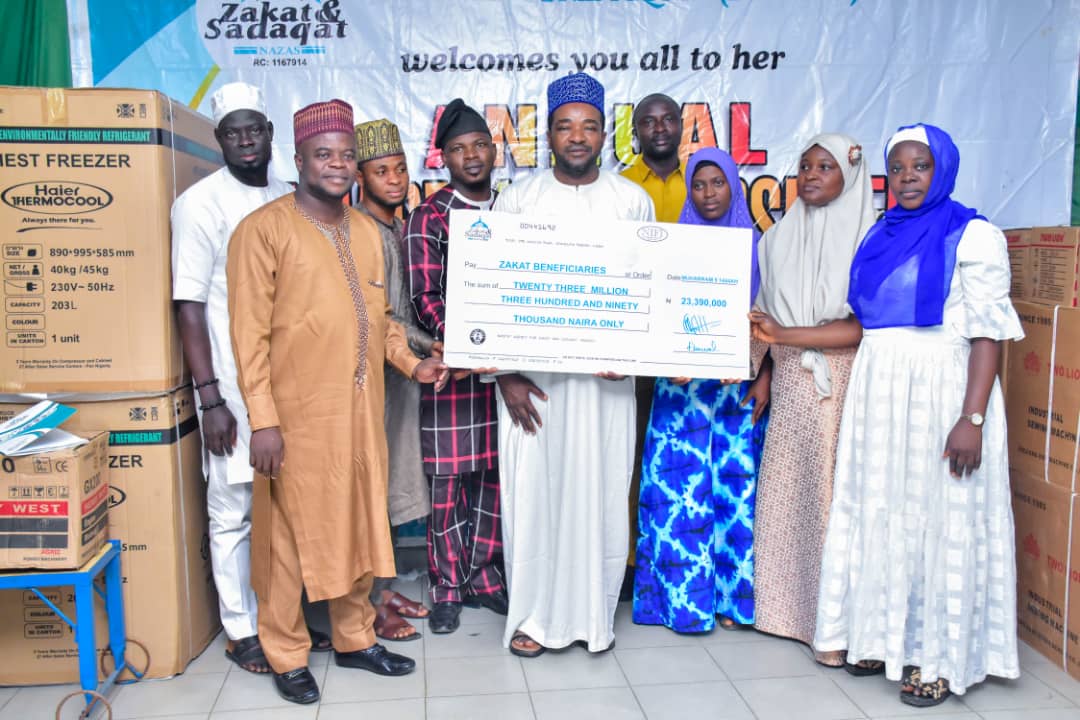 The remaining zone is the North East. Once we establish in the North East, NAZAS will be present there.
"NAZAS is the Zakat and Sadaqah agency of NASFAT. So, we are touching locations where we have NASFAT members and branches.
We started with Nigeria. Then, we've moved to Côte d'Ivoire. There are other locations in the West Coast like Ghana, *UK, US*. Our goal is for NAZAS to follow the NASFAT membership wherever they might be.
We have presence in six or seven countries in the West Coast: Benin Republic, Togo, Ghana, Côte d'Ivoire, Liberia, Senegal. Those will be the next sequence that we plan for the operations of NAZAS."
Niyi Yusuf also vouched for the transparency and accountability of NAZAS, stating that AGM has been held every year in their seven years of existence.
"NAZAS has been transparent and accountable. We have been around for seven years. We have held AGM every year and it's always a public event, where we invite donors, members of NASFAT and even non-members.
There, we present our books. Feedback from donors has been that, this is useful.
"Second is the credibility of the Board and the Management. The chairman of the Board is not a member of NASFAT. There are two non-members on the Board. That is deliberate. Zakat is for Muslims. We are just using NASFAT as a vehicle. We are using the best people to achieve results, including non-members. We are available and accessible. Today, we are in five of the six geopolitical zones. We have made it comfortable and convenient for donors to meet us."
The Chief Missioner of NASFAT, Imam Abdul-Azeez Morufu Onike in his own words, said the Zakat disbursement programme through NAZAS is in line with the mission of NASFAT to develop and enlighten the Ummah, nurture the true understanding of Islam for spiritual development and the welfare of mankind.
He charged Muslims who have the means to pay Zakat, noting that Allah institutionalised Zakat to reduce poverty drastically among people.
"Almighty Allah who has institutionalised Zakat is our Creator. He knows that if those who have, give to those who don't, poverty would be reduced drastically. Allah says there is no creature that has not been provided for by the Creator. That provision may now be kept with someone else. It now behoves that person to discharge the responsibility of giving the provision to those who need it. That's why everybody who has money that is Zakatable should release part of it, just 2.5 percent to those around him.
"The Qur'an is very clear about those who should be Zakat recipients. Zakat will drastically reduce poverty if it is well administered. You will agree with me that if we have so many organisations doing what NASFAT is doing by setting up NAZAS, we won't be talking about poverty as we are talking about it now."
Imam Onike hinted that, "In the last seven years, the agency has disbursed 450 million Naira. That's no small money. A lot of our members and even non-members who have benefited from our Zakat disbursement are now living very fine. They have had their honour redeemed. They don't have to beg fellow human beings to live. If you have to beg people to survive, your honour is being tampered with.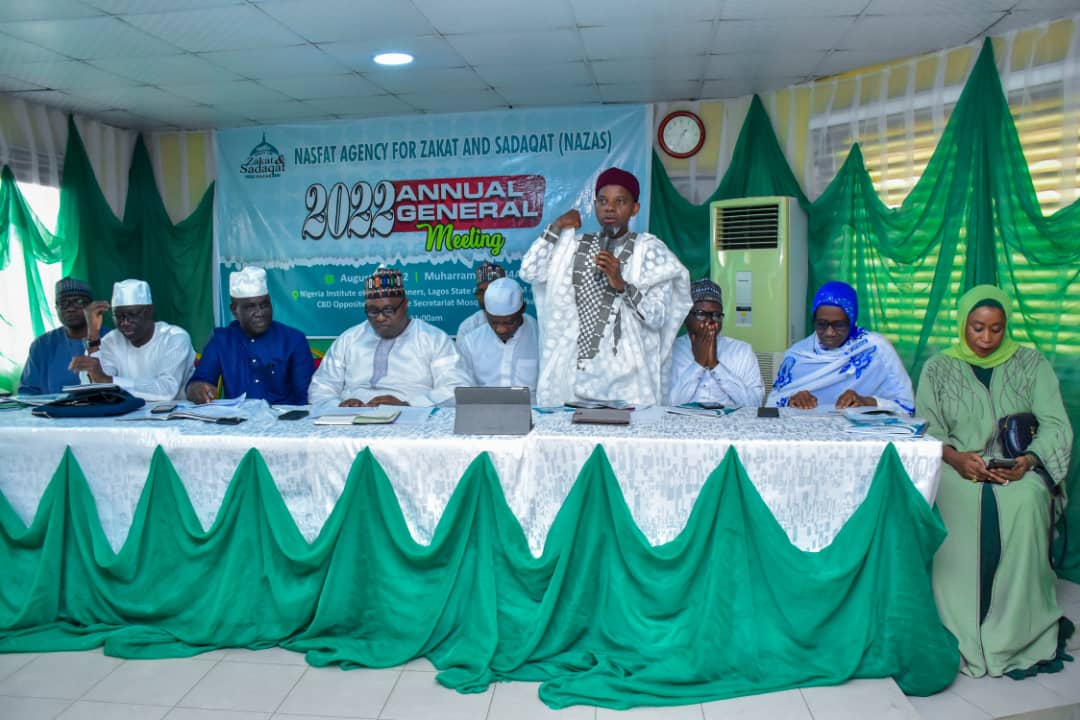 "One of the companions of the Prophet (was approached by a beggar. The companion had on himself 20 dirham. He gave 10 dirham to this beggar. But because the beggar saw another money with him, he was hesitant to collect everything. Somebody now asked him why he was still waiting. The person said he doesn't have to wait anymore since he had been given 10 dirham or what has he sold to him. The beggar replied that he had sold his integrity, personality, image to him. That's why we want to ensure that everybody lives a decent life.
"There is no widow at NASFAT that has not been empowered by our organisation in line with our vision and mission. During COVID-19, we empowered a lot of people. We gave people relief packages and we shall continue to do that."
He also strengthened the claim that the disbursement programme is not targeted at members of NASFAT alone. He cited a case of an Igbo man who experienced fire disaster and was re-established by NAZAS. In his words,
"One man got his house burnt years ago. He was an Igbo man. He lost some of his children in the process. NAZAS came to his aid. We set him up, empowered him, and today, he is living a happy life. Our Prophet (SAW) has taught us that we should not claim to be Muslims until we love for our brothers what we love for ourselves. Allah also says in Q3V92 that we cannot attain righteousness until we spend what we love most, which is money. NASFAT will continue to promote this agency and ensure that the welfare of people is taken care of."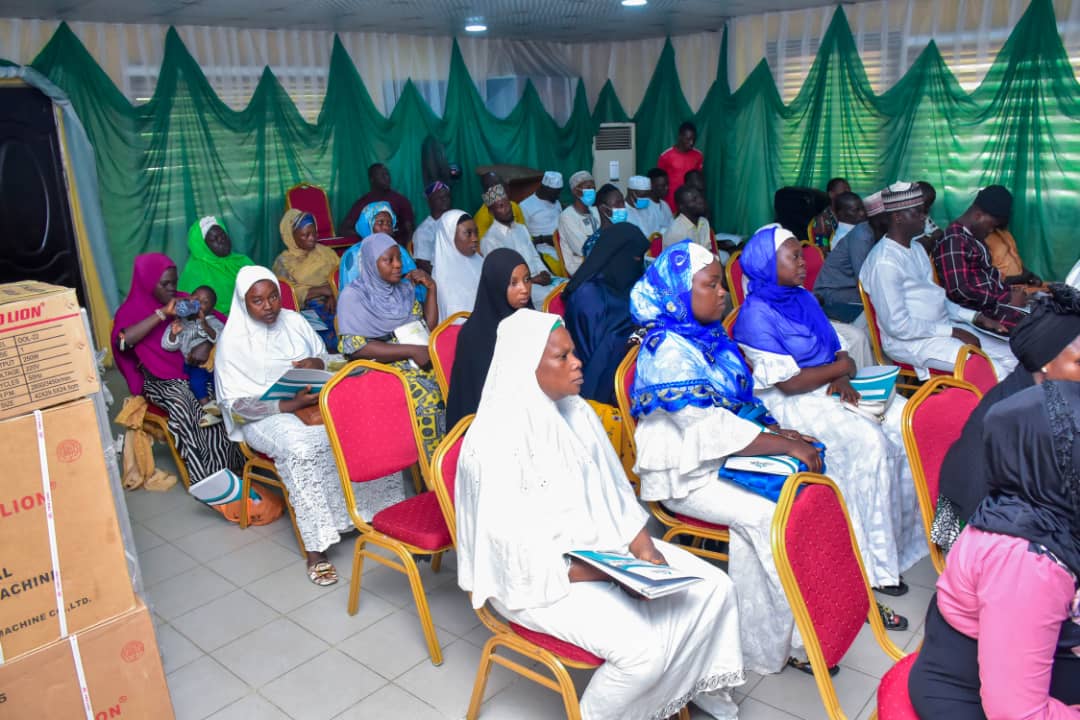 While thanking the various donors for contributing to the feat recorded so far at NAZAS, the Chief Missioner encouraged other affluent Muslims to entrust their Zakat payment with NAZAS.
He said they should be rest assured their money would be judiciously disbursed and accounted for.
"As you can see today, we read out the money we had received in the last one year. We read out the names of those who have benefited from it. That's what NASFAT stands for. If Zakat institution is well coordinated, the level of poverty in our society will be drastically reduced," Onike noted.
Some of the beneficiaries however could not hold back their joy while speaking with Lasilkiin.com as they acknowledged the disbursement given in different areas of their skills.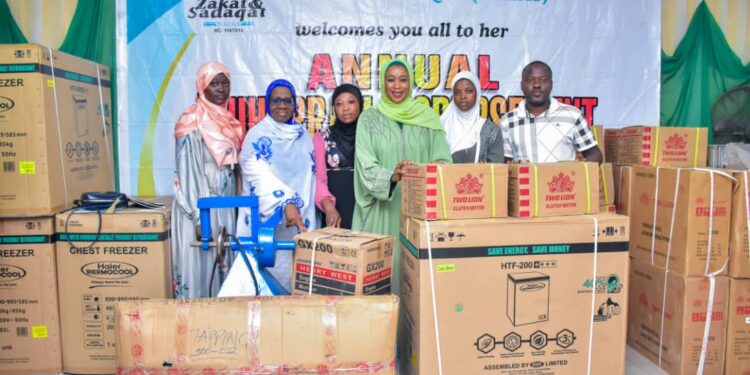 They expressed their joy and appreciation to NASFAT Agency for Zakat and Sadaqah (NAZAS) for all what they benefitted from it, which they promised to be put into valuable use as it will help improve their livelihood and businesses.