Fountain University was granted an operational license as a Private University on May 17, 2007, by the Federal Government of Nigeria, on the recommendations of the National Universities Commission. Following this achievement, a Strategic implementation Committee was set up to serve as "in loco Council" to actualize the birth of the University. This Committee worked tirelessly to put in place the necessary facilities for the University to take off.
The desire of the Nasrul-Lahi-Il-Fatih Society (NASFAT) to establish a University was borne out of its educational policy and plan enunciated at its strategic Retreat held at Akodo, Lagos, in the year 2000. From this humble beginning, the Society started a systematic process which led to the hosting of an academic summit of 30 Distinguished Academic Personalities from where an 18-person University Planning Committee emerged in January 2004.
The vision of Fountain University Osogbo is to produce competent and resourceful graduates with high moral standards irrespective of race, tribe, religion, or political inclinations.
At FUO, students are not just given the education and experiences that set them up for success in a career, FUO helps them succeed in their career, to discover a field they're passionate about and dare to lead it.
In actualisation of this vision of Fountain University Osogbo and the dream of NASFAT for establishing this citadel of learning, FUO has added a lot of feathers to its cap since its inception, one of this, is the recent accreditation of one its departments; The department of Mass Communication was granted its full accreditation from the Advertising Practitioners Council of Nigeria (APCON) due to its remarkable growth in mass communication over the years.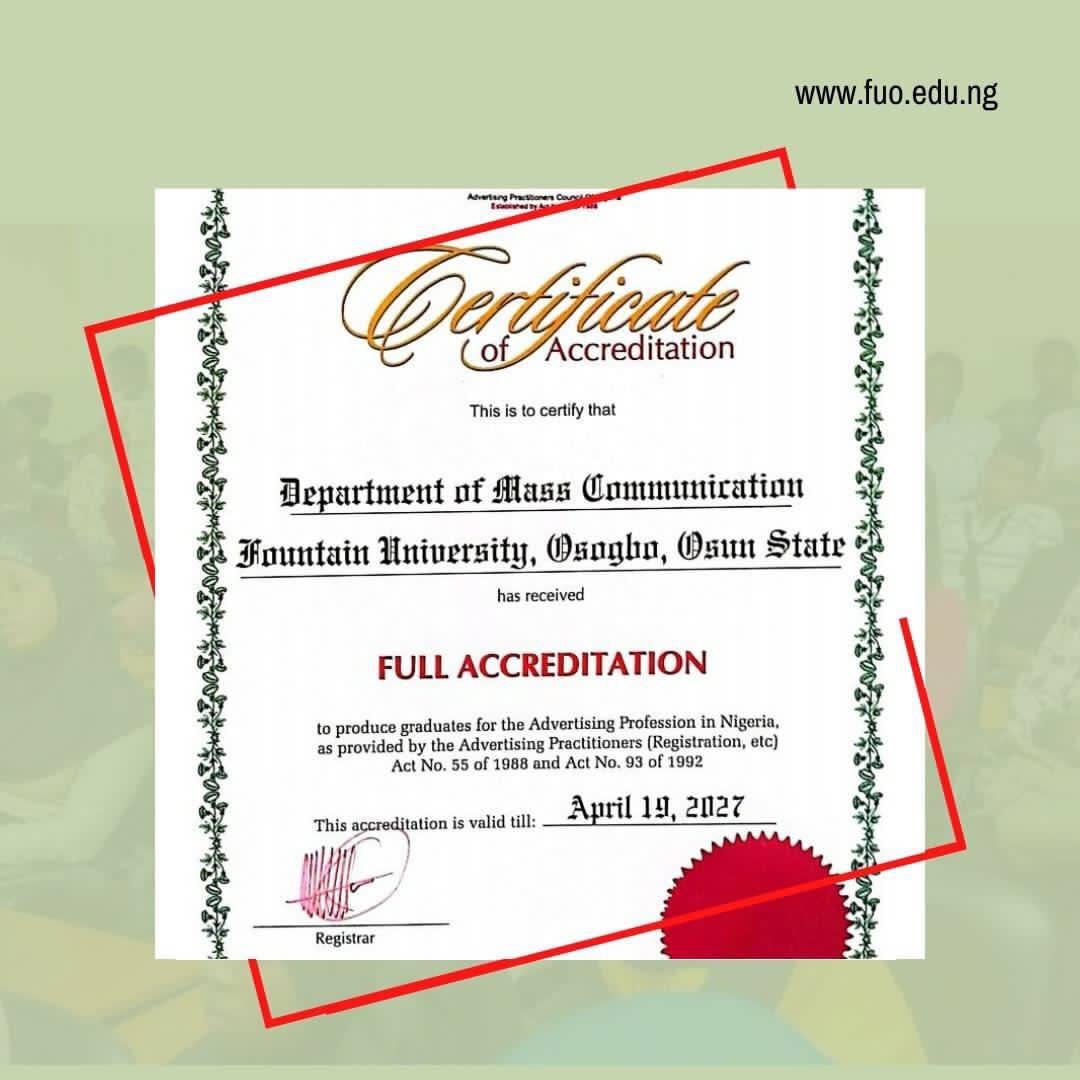 What this means that, the Accreditation certificate received from APCON on March 17, 2022, certifies that the department is fully accredited to produce graduates for the advertising profession in Nigeria.
Alhamdullillah Rabilliallamin Hamdan Keziran Thoyban Mubaraka Fihi.(All thanks to The Almighty Creator of the universe, who is always pleased with, what is pleasing to Him, may this achievement be full of His blessings).
So, are you getting your ward ready for the 2022/2023 admission? Then want are you waiting for???
Apply now and Invest in your children's knowledge today and be satisfied you made the right choice and life-long worthy decision.
For more information, contact admissions@fuo.edu.ng
At Fountain University Osogbo…setting standards for the future of your wards academically, morally, socially and spiritually is our goals.