October 02, 2022
No fewer than 200 NASFAT members, Parents and the Youths of NASFAT Osun Zone, trooped out en masse, in the early hours of Saturday, claded in the NASFAT customary blue-and-white coloured smart sporting outfits, with matching fez Caps and Hijabs with a mission on their alert minds, the Health Walk to bring to the collective sensitization and awareness of the public, the prevalent Breast and Cervical Cancer, a silent killer among the women folk.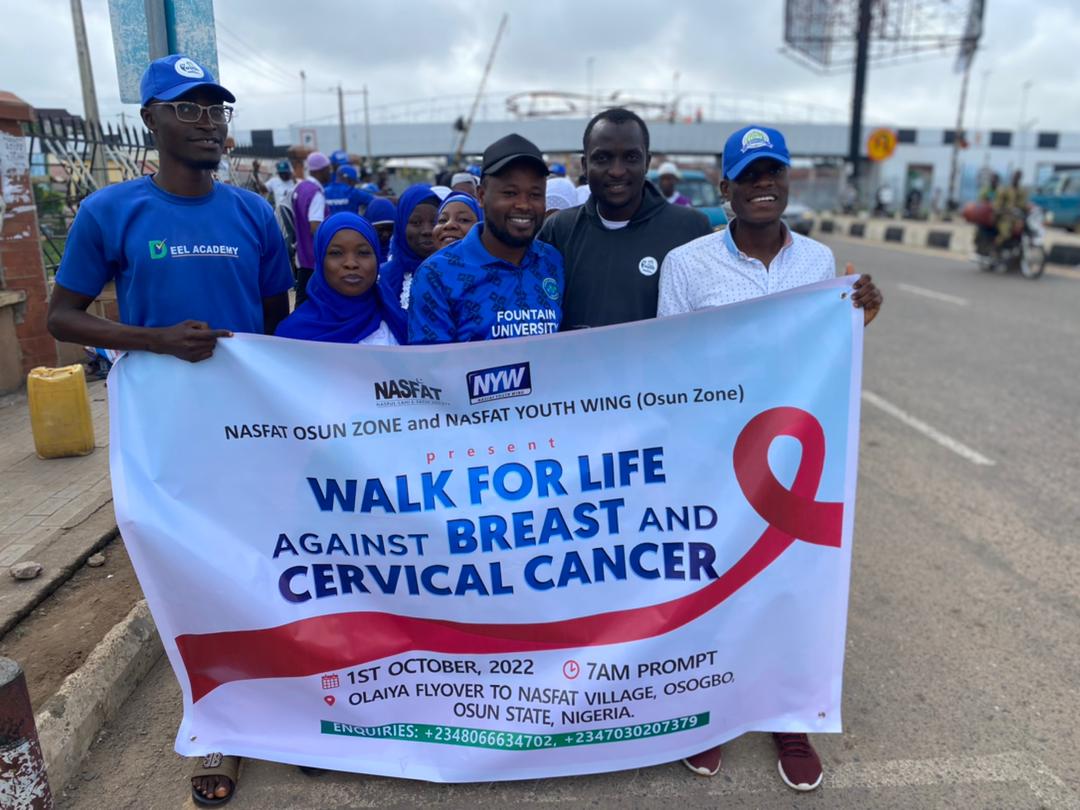 This was was made known in a statement made available to Lasilkiin.com signed by the Public Relations Secretary, …….. where all the events lined up for the sensitization of the public on "Breast and Cervical Cancer awareness".
"Starting from the converging point at Ola-Iya Flyover Junction, the congregation moved with a sense of togetherness and fellowship, with IEC materials detailing facts about the Cancer while reciting the prayer points as being detailed by the spiritual leaders through the 5-kilometre walk down to NASFAT Asalatu Ground, Osogbo amidst heavy security presence."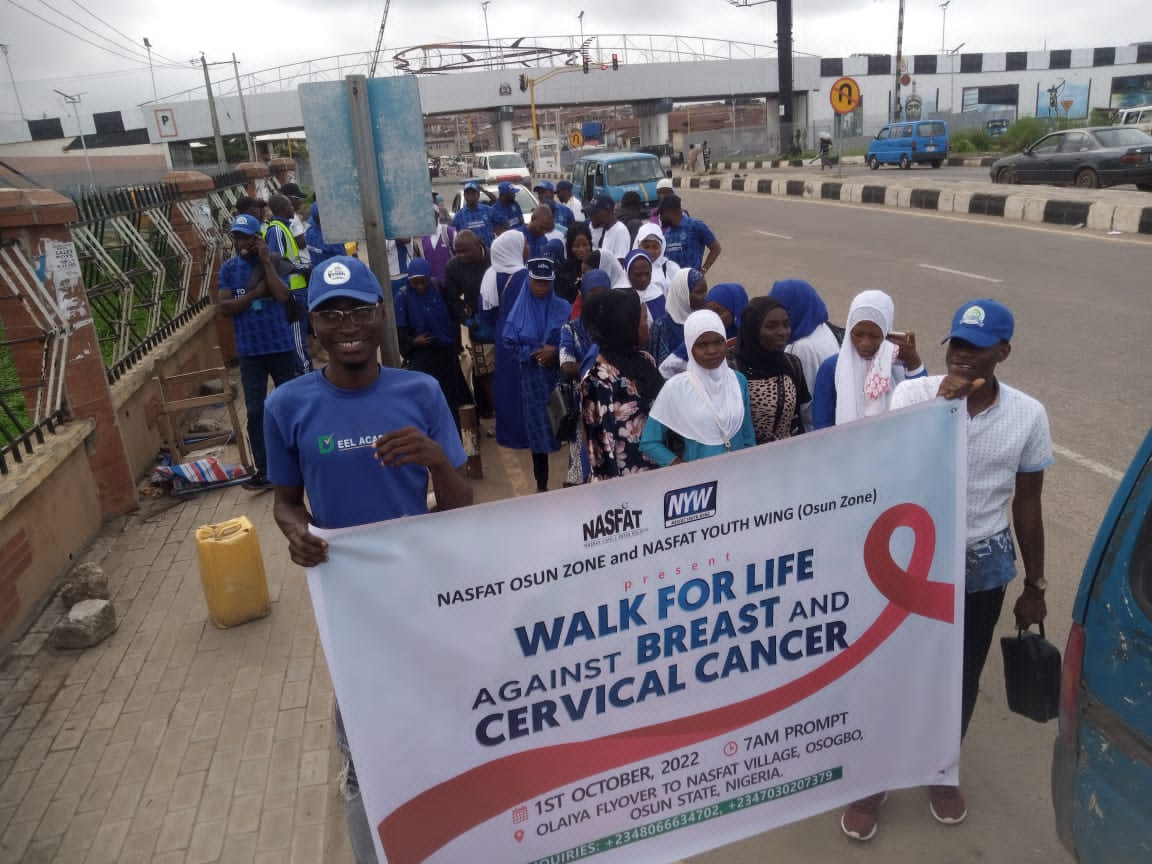 According to the Zonal Public Relations Secretary, NASFAT Youth Wing, Osun Zone, Bro. Olaniyi Abdulwaheed Wale, the Walk for Life was followed by the programme for the day, which is Health Awareness on Breast and Cervical Cancer. It commenced earnestly with opening prayer and short admonition, led by the Spiritual head of NASFAT, Osun – Sheik Dr. K. K Busari, as closely followed by recitation of the Holy Qu'ran by Bro. Hassan Ibrahim.
In his speech, the Youth Secretary of NASFAT, Bro. Kabir Raji highlighted on the need to take one's health very seriously, judging from the increasing rate of Youth mortality. His message was delivered by his Naib-ul Amir, Bro. Olasupo Tajudeen Olalekan, who represented him at the event.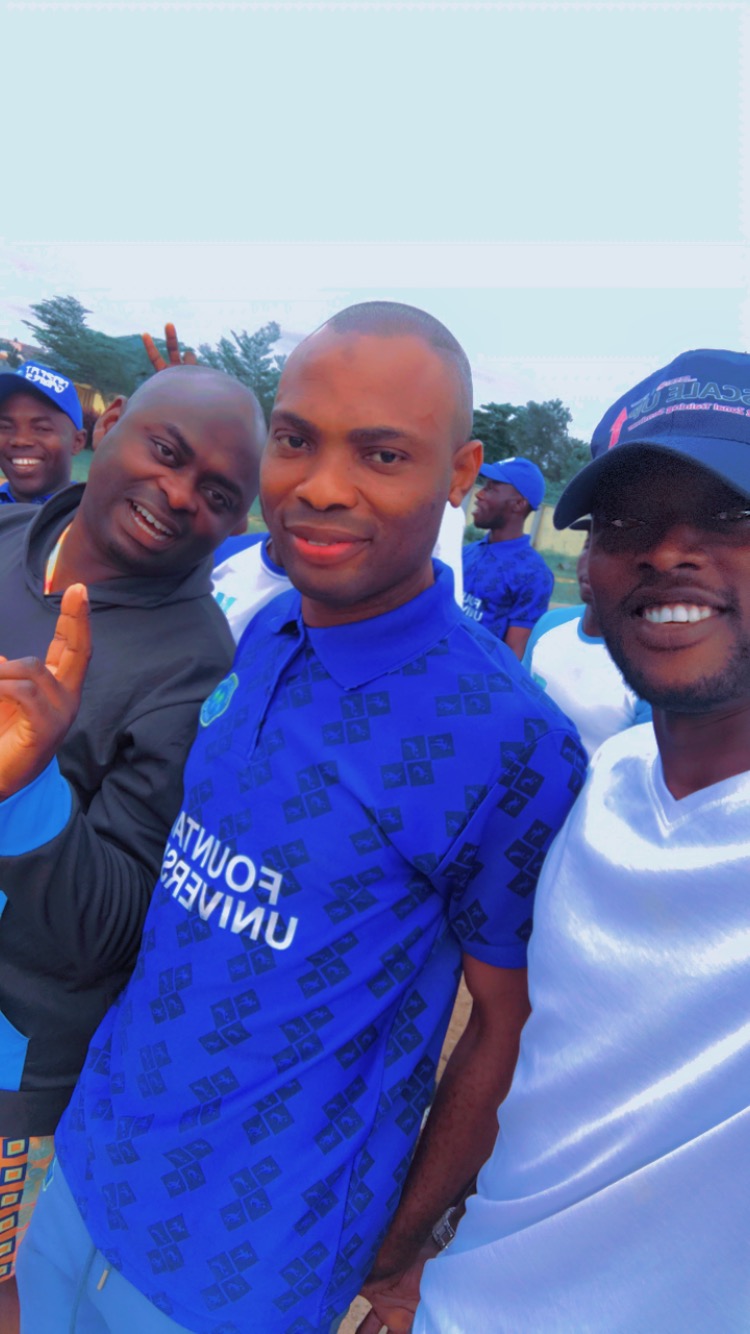 Earlier in his keynote address, the Zonal Chairman, NASFAT Osun Zone, Alhaji Mikail Omisore, used the opportunity to appreciate everyone present while emphasizing further on the 4-pronged cardinals of NASFAT, especially as Health forms the first part of the HELD policy.
The Zonal Health Secretary, Alh. Dr. Bolarinwa took his time to inform everyone present about the Osun Health Insurance Scheme, OHIS, which is currently adopted by NASFAT Osun Zone at their Iree and Osogbo NASFAT Health Care Centres, ranking them as one of the best Zones in respect of Health. He advised all members to apply for it, so that the cost of their Health care is drastically subsidised as they don't have to pay through their noses to access quality health care, compared to patronising the ones that are free, but might not adequately address the underlying health challenges.
The Facilitator of the Health Talk, Matron Adeyanju Rodiyah Olawunmi, the Co-ordinator, Cervical Cancer Treatment, State Hospital, Ikirun took the curious and attentive audience through what Cancer is, its type, causes, prevention and treatment.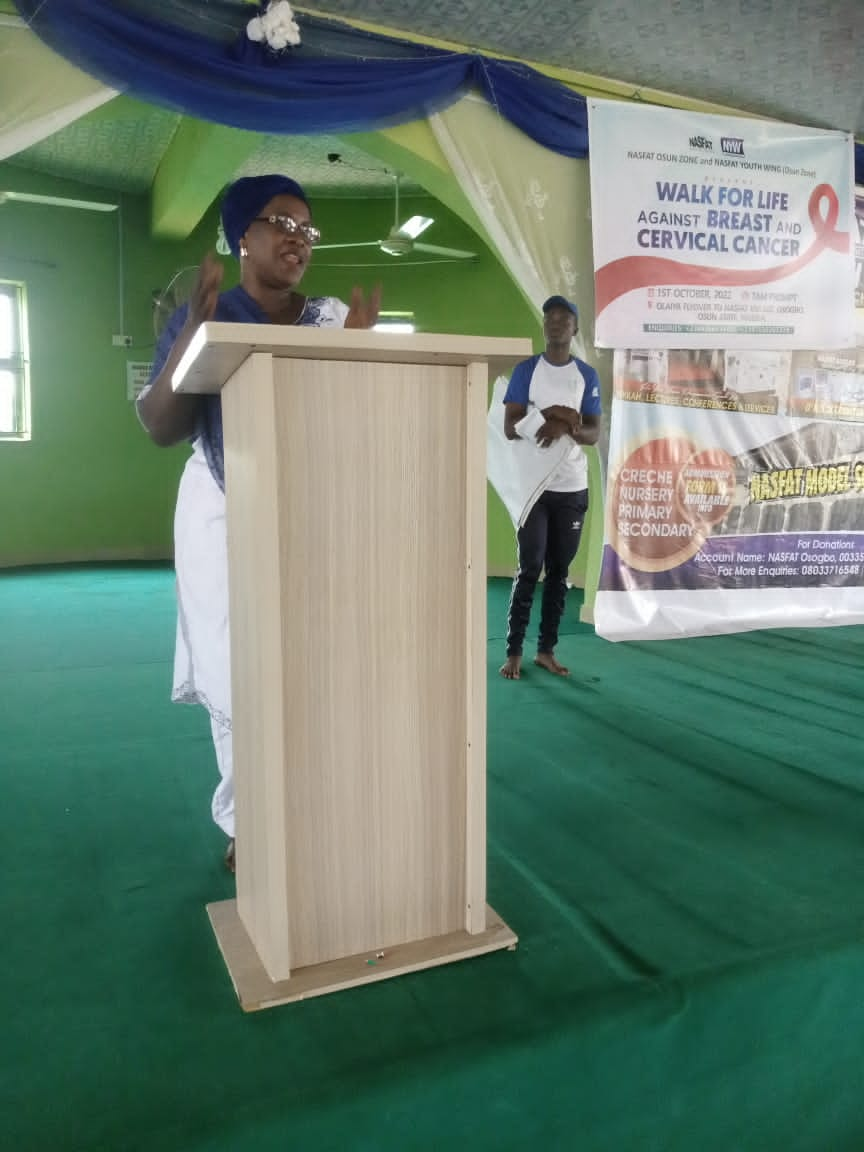 In her words, she said "Cancer is a silent killer which causes large number of deaths. There are 2 types of Cancers, namely, Benign Cancer which does not spread to other organs and Malignant Cancer which spreads to other Organs."
She reiterated further that early marriage (Below 14 years), Bad lifestyle, lack of exercise and exposure to chemicals and radiations are part of the main causes of Cancer.
Other reasons cited by the ever-composed lecturer, who brought IEC materials displaying different Cancers form and part of the body likely infected are breast mastitis, unusual virginal bleeding after sexual intercourse, indigestion and restlessness.
The session aroused a lot of curiosity questions inevitable, which were expertly answered by the Facilitator.
Alhaja Rasheedah Anifowose, the one time Youth Ameerah of NASFAT Osun Zone and the former Secretary of NASFAT, Osun Zone corroborated the assertions of the Facilitator, stressing further on the need to shrug off depression, look good, stay healthy for other life activities to be joyfully harnessed.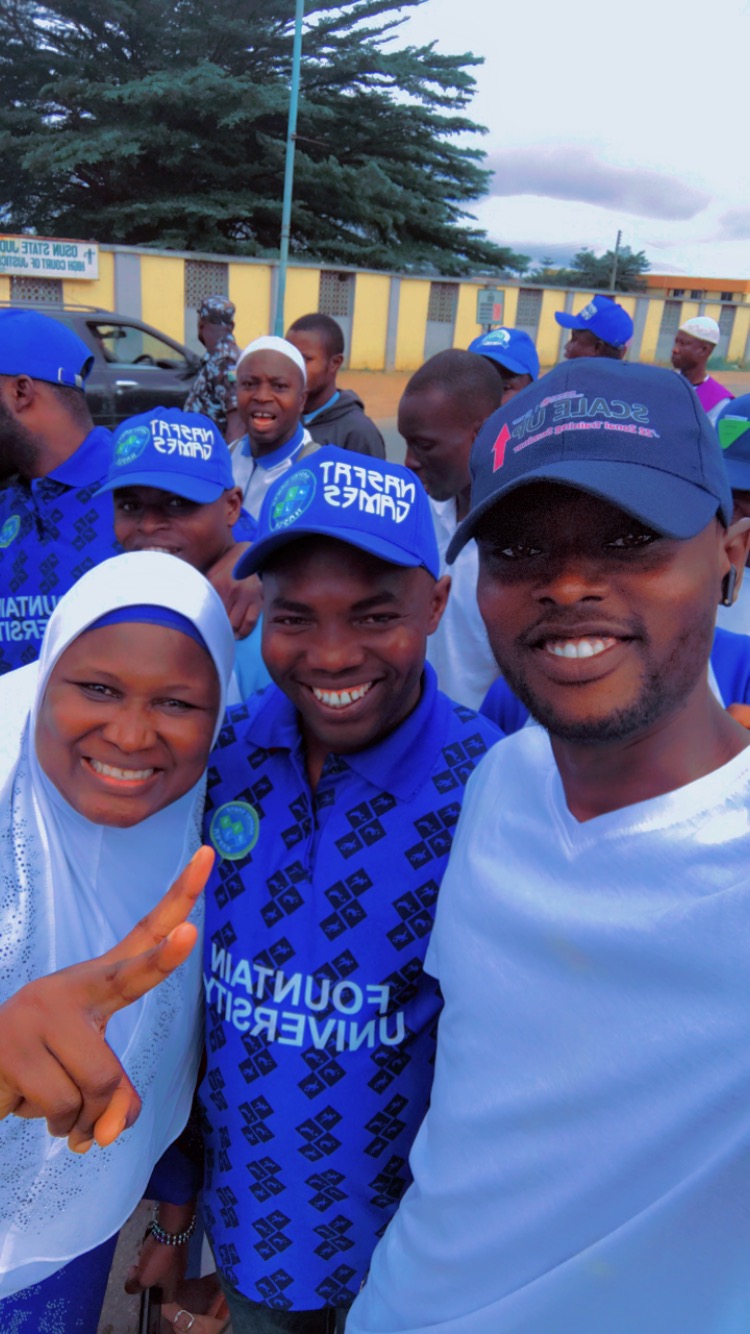 Lasilkiin General Editor, Bro. Elias Sanusi was on ground to enlighten the participants on what Lasilkiin Communications Limited does, its activities so far and where it is heading in the media/communication industry.
The Zonal Co-ordinator, NASFAT Osun Zone, Bro. Sanni Abdulkabir Adedayo having had a fruitful day appreciated all present. According to him, "it signalled another day spent towards unlearning, learning and for some others, re-learning for the sake of humanity."
The second segment of the day, the Singles' hang-out event was anchored by Bro. Toheeb Olawoye where the theme: From Breakfast to Bridal Shower; Spinning out of Spinsterhood was discussed by a Leadership Initiative, ISERH Director, Bro. AbdulRaheem Abdullah Abayomi, who is equally a former Amir, NASFAT Ilesha Youth Wing accompanied by his Wife, a former Amirah, NASFAT Youth Wing, Osun Zone, Sis. Abdulsalam Ossenat.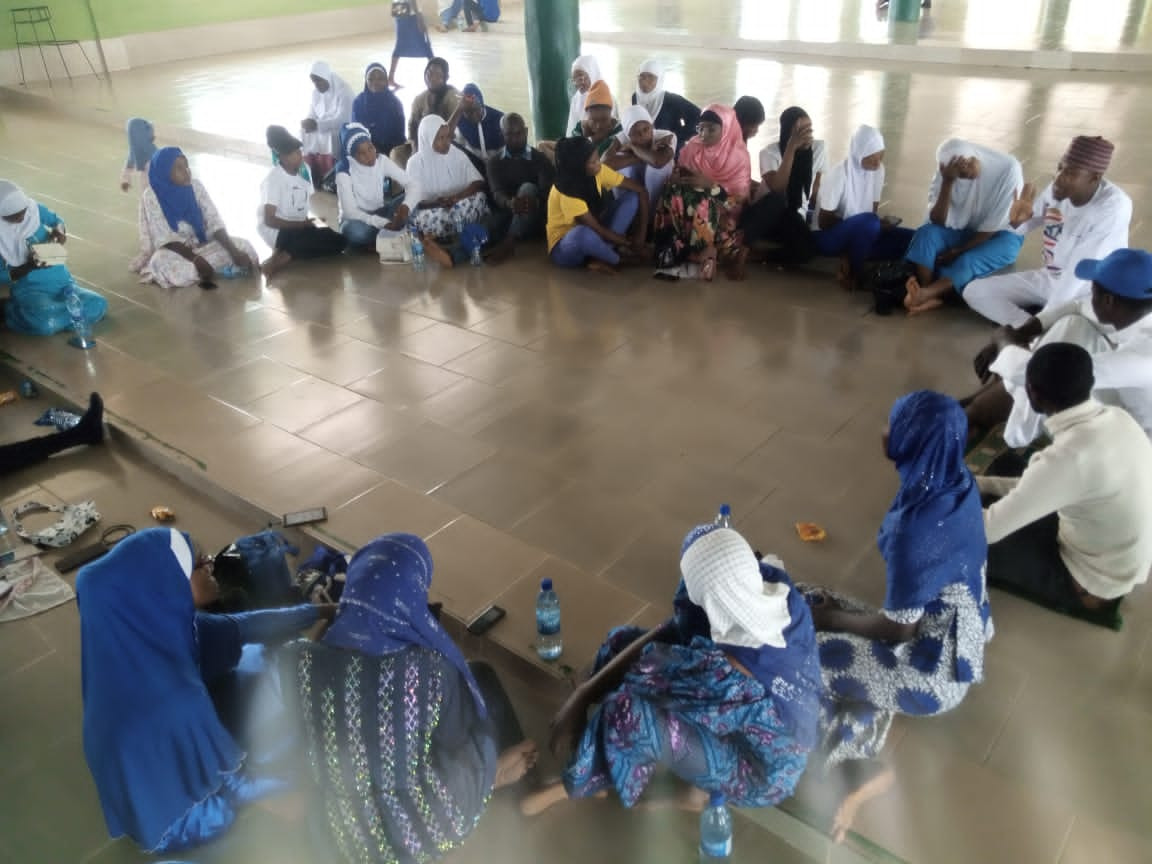 The Facilitator, used his own personal story to drive home his points. He enjoined all participants present to exercise patience in Relationships as it is one of the ingredients of sustaining a relationship, which is a sure way leading to marriage while participants were given opportunities to share their experiences so far.
Syndicate Session was formed and group discussion was conducted with take salient points taken home by all, for use in their lives, henceforth.
Present at the event were the Vice Chairman of NASFAT, Alh. Muritador Yusuf, the Secretary, Engr. Abdulhakeem Lawal, Hon. Adabanija Semii, the Zonal Public Relations Secretary, Alhaja Adeyemo, the Empowerment Secretary, NASFAT Osogbo, Alhaja Yussuf and Hon. Ogunwale Lukman, the Branch Assistant General Secretary, NASFAT Osogbo Branch.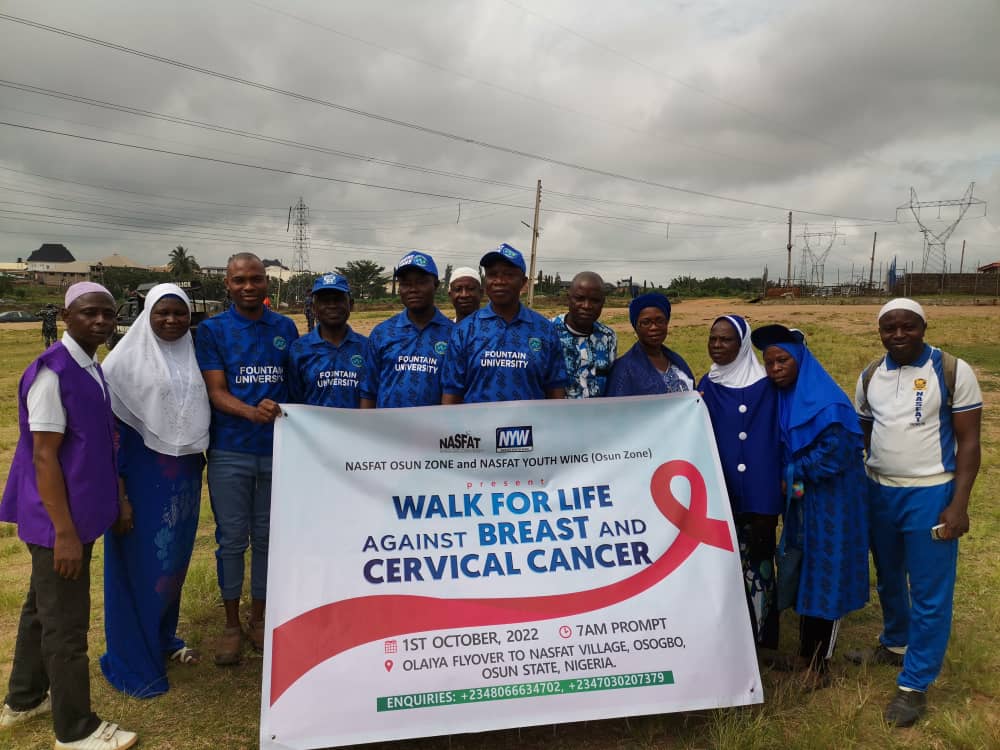 Others are the Zonal Ameerah of NASFAT, Osun Zone, Sis. Omowale Basheerah, Zonal Treasurer, Sis. Olawale Aminah, Zonal Fin. Sec., Bro. Oladeji Azeez, Bro. Oyetayo Fathiu, Zonal Assistant General Secretary, Amirs Ami Sulaiman, Adegoke Ridwan, Akinwole Ishaq, Adebisi Afeez, Jimoh Waheed and Adetunji Saheed representing Osogbo, Erin Osun, Ilesha, Ikirun, Obaagun, and Ikire respectively. Sister Salami Khadijah, Amirah, NASFAT Osogbo Branch and Sister Ayangbade Sukurat, Amirah and NASFAT Ikire Branch was also in attendance.
The whole well packed event was rounded up with the closing prayer as said by Bro. Adediran Rasaq, one of the members of the Mission Board, NASFAT Osogbo.