HAVEK HOLDS LEADERSHIP TRAINING PROGRAMME FOR ALL ZONAL LEADERS OF NASFAT IN OGUN STATE
Fausiat Salako-Sanni
November 18,                     2022
Leadership has been described as the ability of an individual (or a group of individuals) to successfully influence and guide the followers or members of an organisation to achieve a common or set goals.
Leadership is to do what you have never done before in order to achieve what nobody has achieved before.
This was made known during leadership training organised by the Havek Leadership Academy for NASFAT Zonal Executives in Ogun Zones 1, 2 and 3 of the society held Saturday, November 12, 2022 at NASFAT Central Mosque, Ijemo, Abeokuta in Ogun State
And among other virtues patience and tolerance were identified by the deputy Chief Missioner of Nasrul-Lahi-L-Fatih Society, Ustaz Abdullateef Bello during his presentation as part of the pre-requisites towards having an Islamic leadership traits that will help in transforming the larger society for better.
He further highlighted knowledge, personal transformation, success habits, project management, system development, delegation strategies, leadership development, organizational growth, excellence-oriented organization and personal health as prerequisites for good Islamic leadership.
"The pre-requisites of a good Islamic leadership in addition to the aforementioned points include patience and tolerance. And above all, a good leader must also be somebody who is always supplicating to ALLAH for the growth of the organization and well-being of the entire members." Said Ustaz Bello.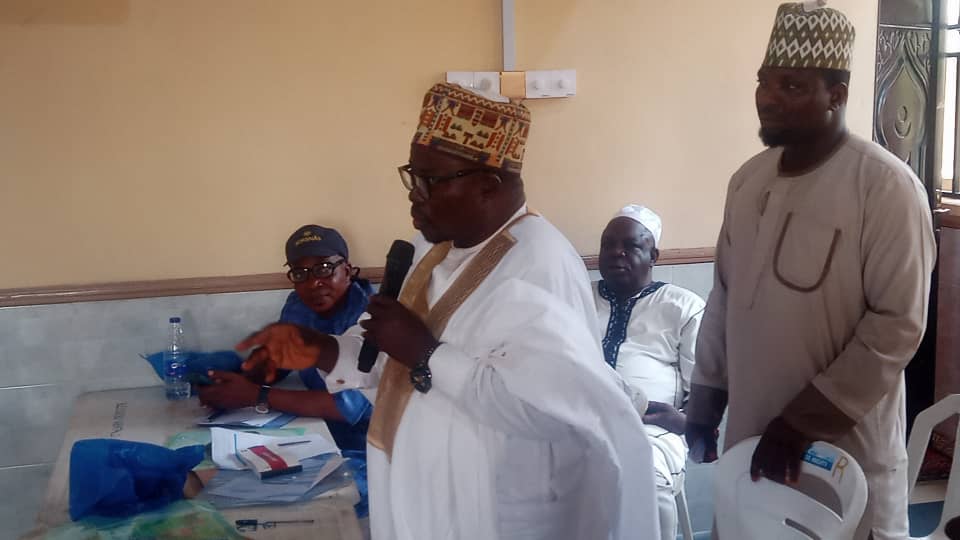 "The NASFAT's vision, which is to develop and enlighten Muslim society nurtured by a true understanding of Islam for the spiritual upliftment and welfare of mankind should be your watchword and guiding light at all times as leaders in NASFAT, your vision must also be, to develop, nurture, enlighten your members for the spiritual upliftment and welfare of the entire mankind."
He however emphasized it to the participants to embrace more of good qualities, values, characters and making them part of their behaviours that they showcase who they are outwardly.
"Be a leader with good examples because there's clear difference between the concept of leadership in Islam and leadership in the contemporary world, the fear of Allah SWT, bringing comfort, succour to humanity through leadership and remembering the fact that, account of stewardship shall be given on the Day of judgement is what makes the Islamic leadership concept human-oriented and that's where the difference is." said the DCM.
In his own presentation, Ustaz Abdullah Oladimeji Davies drew searchlight on the topic " Effective Community Leadership" where he analysed and why it's important to know more about self awareness, self management and requirements to be better leaders at the community level. All these put together will be a reflector on the community affairs management at large.
Havek Leadership Academy (Havek L.A) is a training institution established and fully owned by Nasrul-Lahi-L-Fatih society, NASFAT with aim of grooming and producing leaders of distinct repute equipped and trained with all leadership rudiments, most essentially with built with the fear of Allah, Islamic moral contents and ethical values. Muslim leaders are expected to be differentiated by these contents for them to take leadership posts and play impactful leadership roles in every sector of the society with the real essence of having a serene atmosphere to enhance productivity and a better society.
Enrollment into HAVEK Leadership training is open for all interested individuals and corporate organisations who are poised at being a worthy, exemplary and God fearing leaders and corporate organisations.
According to the General Manager of Havek Leadership Academy (Havek L.A), Mr. AbdulWasiu Ayoola, the just concluded training held in Abeokuta Ogun State is tagged "Zonal Leadership Training" being an executive leadership development programme for all zonal leaders of NASFAT in the three zones located in Ogun State. 48 zonal executives participated and were certified.
NASFAT, Oyo zones had passed through the same training in June 2022 and that of NASFAT Lagos zones will be held soon in December 2022 in Lagos State. HAVEK hopes to extend similar training to other zones and branches across the country and outside the shores of Nigeria for those NASFAT zones and branches in the diaspora in the coming months.
On the significance of the leadership training programme. "First of all, the training is one of the modular courses in HAVEK L.A which is titled "Leadership training for leaders in Islamic organisations". This is just to start with NASFAT."
It is a leadership training product HAVEK also hopes to offer to all other Islamic societies and organisations in Nigeria. More than 20 Islamic organisations have been contacted for this course and they are waiting to enrol for the course.
"So the significance of organizing this training for them in Ogun State is to avail the participants a leadership training that will enable them to imbibe exceptional leadership skills and capabilities that will further enhance them to perform excellently well in their roles, tasks and responsibilities they are saddled with as Zonal leaders at NASFAT zones in Ogun State."
Moreover, HAVEK Leadership Academy is an avenue to groom ethical leaders who can be of great positive impacts in the lives of others and contribute more meaningfully to humanity in any leadership capacity they may find themselves now and in the future.
"So what this mean is that, whoever passes through this training, would have been exposed to rich leadership contents such as team leadership skills, emotional intelligence, Islamic moral contents and ethical values embedded in this particular training module."
"Looking at all these from the perspective of Islam, such that people who have the understanding that whatever concept of leadership being practised today, the prophet Mohammad as an embodiment of knowledge as well as the rich Islamic history of the past pious people had taught and laid down some of these things as templates for us to religiously follow and imbibe."
HAVEK Leadership Academy training programmes are in series. The Leadership Training for Leaders of Islamic Organisations module essentially covers four modules and because leadership is a continuous phenomenon, and realise that leaders shall be changing baton periodically, so at every period this change of batons takes place, the training will be organised for every new leader selected or elected across NASFAT zones and branches and even beyond in order to equip and prepare them with rich understanding of the tasks ahead for them to be able to discharge their respective responsibilities effectively and efficiently.
Among other programmes of HAVEK Leadership Academy aside this module are: HAVEK Fellowship Programme, Entrepreneurship Development Program me and so on. The Fellowship Programme was launched in Muharram 1444/August 2022, it's currently on going and at mentoring stage of the first phase of the programme with 25 scholars already admitted across Nigeria for the maiden edition, attending the fellowship programme. After the mentoring programme the scholars will go for internship and community service. The essence of the internship is for the scholars to have personal community projects that they are able to implement which are aligned to what they have been tutored on.
The second phase will kick start in January. It's a programme that is meant to run for a year. So hopefully by September 2023, Havek Leadership Academy should be graduating the first set of fellows/alumni from the Academy.
Agencies of Islamic organisations like NAZAS, LASILKIIN, TAFSAN, NRI, TAFSAN TRAVEL & TOURS and others can also take part in the open window for corporate organizations soonest. The window will allow interested corporate organizations to nominate and sponsor their young managers and the middle management team to be groomed with rich moral and ethical contents by attending the Fellowship Leadership Programme in preparation for a greater challenge in future. So Havek L.A is all encompassing.
Lastly, GM, HAVEK L.A however advised the participants at the Ogun zonal leadership training to make good use of the training gains and experience, as it is essential that, everybody who passes through quality leadership programme have got a better opportunity to develop their knowledge, skills and capabilities about leadership.
"One thing that's central and obvious to Nigeria problem is leadership, and the moment we get it right by building ethical and exceptional leaders like other forward looking nations, we would be able to fix many issues in our nation today. So at HAVEK, we want to start making that correction from our own offerings as a Society, because we believe if NASFAT has taken the bold step to lead in the grooming of better leaders for NASFAT Society, the Muslim Community and humanity at large, these are parts of the people that will later become better leaders to lead future changes in their communities and larger society either by appointments or elections.
High point of the training was the presentation of certificates to the participated Ogun zonal leaders.