Towards preparation for the glorious month of Ramadan and in a bid to assist households to have access to affordable food stuffs for Ramadan, the Nasrul-Lahi-L-Fatih NASFAT National Empowerment Committee is organising a Ramadan Market tagged NASFAT 2023 RAMADAN MARKET.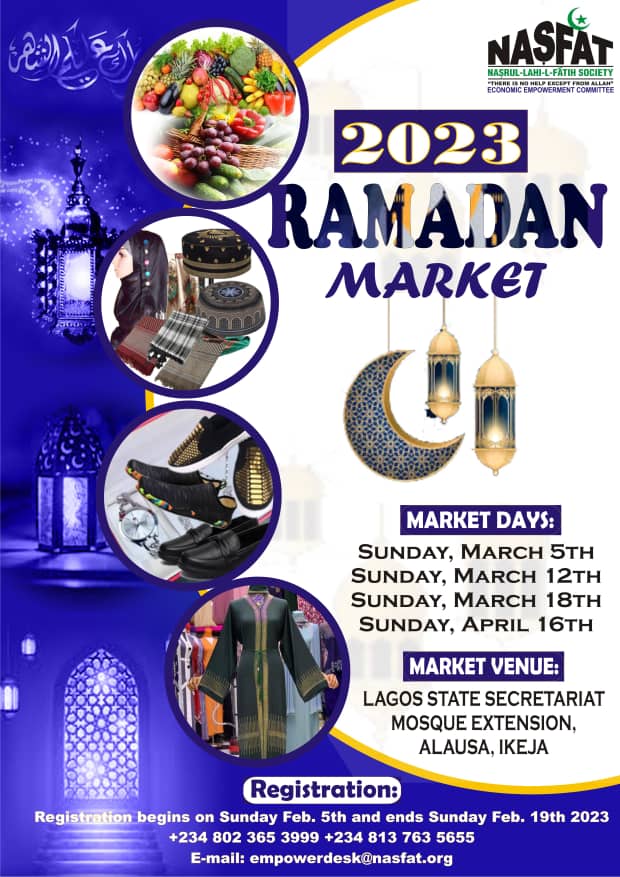 The glorious month of Ramadan is expected to start on March 23rd subject to sighting of the moon.
This initiative is to provide platform for vendors where they will have the opportunity to showcase their goods such as fruits, foodstuff, livestock, smoked/frozen stock and other halal and Ramadan related materials.
According to the empowerment committee that's facilitating this initiative, "It is a great platform to connect with new customers for future patronage."
The registration is on going for the NASFAT 2023 RAMADAN MARKET So, interested vendors can pick up their registration forms FOR FREE at the Economic Empowerment Stand @ HQ, Alausa, Ikeja
Details on the flyer