'Ebola' Resurfaces, Hits 4 Nigerian States, Destroys N1.3bn Tomatoes
April 27, 2023
Fausiat Salako-Sanni
Tomato farmers have lost a whooping N1.3billion to the resurgence of Tuta Absoluta, also known as Tomato Ebola, in Nigeria.
The disease is however currently ravaging tomato farms in parts of the country, with scarcity looming.
KIIN MEDIA, gathered that the situation has led to a collaborative efforts by Federal Government; Nigeria Agribusiness Group, NABG; Hort Nigeria; Nigerian Horticultural Research Institute, NIHORT; Sygenta; International Institute of Tropical Agriculture, IITA, and others to tackle the disease.
They raised the alarm over Tomato Ebola at a briefing by Horti Nigeria, supported by the Netherlands, adding that the ravaging insects were ruining huge investments of farmers in Kano, Kaduna, Katsina and Gombe States.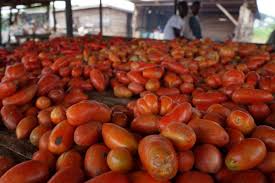 However, amongst recommendations made by the NIHORT boss include; Federal Ministry of Agriculture and Rural Development is to incorporate NIHORT sustainable Tuta Integrated Management Package for tomato production in the national tomato policy to stem the tide of this occurrence;
Farmers should strive to adopt the planting of NIHORT's recently released tomato seeds bred for high yield, tolerance to fusarium, good shelf life and nutrition qualities.
The Director General, DG, NABG, Dr Manzo Maigari, recalled that in 2016 and 2017, the level of Tuta Absoluta's devastation reached an epidemic level, but NABG along with other partners proffered some solutions.
"Today it (Tuta Absoluta) is back and we have to call on these major stakeholders to come together so that we can agree on the way forward.
"We have also seen the entrance of a new stakeholder, Horti Nigeria, funded by the Dutch Government, and they also have a regime of practices that has proven beneficial to farmers because in the clusters that are managed by them so far there is resistance by the Tuta Absoluta.
"Therefore, this adds to the bouquet of solutions we want to present to farmers so that the whole thing will have an integrated approach," Maigari stated.
Meanwhile, the Secretary General, National Tomato Growers, Processors and Marketers Association of Nigeria, Sani Danladi, lamented the huge losses over 500 farmers have incurred in Kano, while they are yet to know how many farmers are being affected in Katsina, Jigawa, Kaduna and Gombe.
Danladi said: "This 'war' is not only for the government and farmers but for all Nigerians.
When Tuta Absoluta enters the farmer's farm it destroys everything there within three days no matter how big or small it is. It is very devastating because it destroys all investment in the farm."
"Looking at the quantum of investing on one hectare of farmland to produce tomato it costs not less than N1.7 million.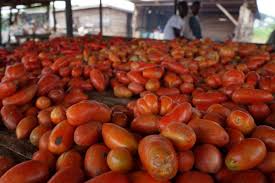 "It is not a small amount of money farmers are losing every year of this disease manifests. It is not occuring early in the season but when temperature rises to high degrees and that is why some farmers are afraid in going into late transplanting of tomato. From January to March, tomato is very cheap in Nigeria but from April upward it becomes very scarce because farmers are afraid of doing late transplanting.
"This year the devastation is very high because we had low production and the disease came and ravaged all produced by the farmers and that is why we have come out to cry and tell the government and Nigerians that on this issue we have to take a holistic approach to proffer solutions.
"We have reported it to the Federal Ministry of Agriculture and Rural Development, NABG and other stakeholders on how can we stop the spread of this disease because we are afraid it might spread to other States.
"This year more than 300 hectares have been destroyed by this disease which affected more than 500 farmers only in Kano State, but also affected farmers in Kaduna, Katsina, Jigawa and Gombe States, and we are still collecting the data from the remaining states, and that is why tomato is very scarce now.
"Now 90 per cent of tomato in Kano has gone because of Tuta Absoluta devastation. It is different from caterpillars but this one is very devastating as you can't eat it because it is dangerous to human health."